Our philosophy is simple: Fast service, skillfully edited images, affordable pricing. That's why our work speaks for itself.
Fill out this form, and we'll get back to you in 45 minutes or less with your customized quote.
Very nice service, 48-hour delivery, and files all online for download. Easy and speedy service. The quality is very good.– Marie

Speed up your workflow so you
can focus on career and/or
business development.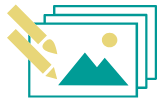 You do it all and need someone to
lend a hand and take tedious tasks
off your plate.

Our mission is to help our customers sell more products and land more clients — and thousands of customers agree that we've helped them do exactly that.